I spent almost the first three weeks of August suffering in the hospital because of a really bad case of diarrhea. When I got out and my good friend, Not Your Ordinary Mum Millie, reminded me that we had a date to try out Sabroso! at Midas Hotel, I was very eager to go. Remember, before this, my diet consisted mainly of bland hospital food. I really needed some comfort food served in luxurious, beautiful surroundings.
It was my first time to step foot in the famed Midas Hotel and Casino and the lobby did not disappoint. The hotel itself was not so big but the lobby was spacious, flowing and beautiful.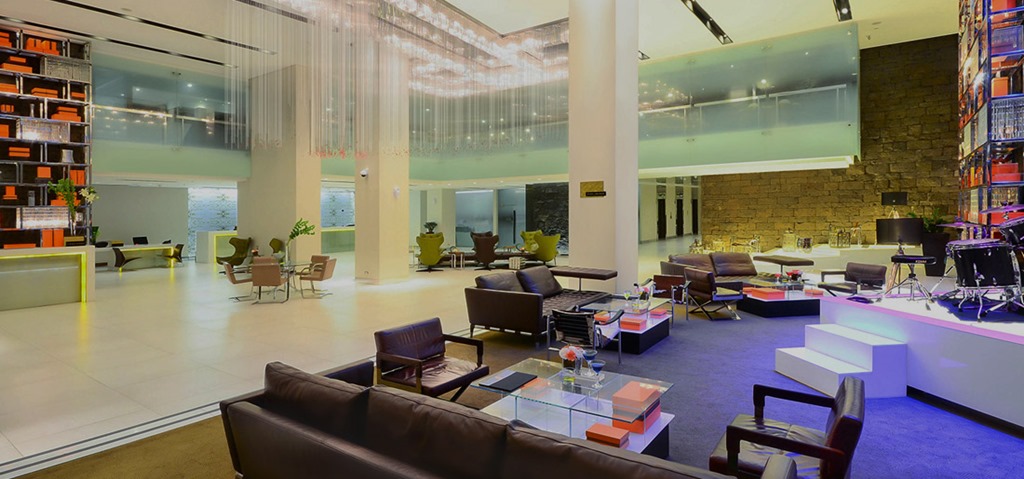 I had to stop and appreciate the lobby first before heading up to Midas Cafe. There I was warmly greeted by beautiful ladies in glittery Filipiniana gowns.
Maybe I have not mentioned it as much before but hubby, Gary D., works in the #1 hotel in Pasay so I tend to have a more discerning eye when it comes to dining.  While waiting for the food to be served, I surveyed my table and my surroundings.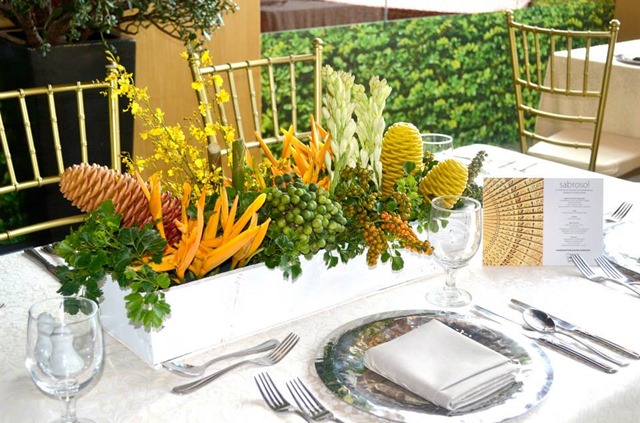 I appreciated the fact that the food and beverage team of this hotel really prepared for this media launch. I can tell the tables were specially prepared  with the use of the base plates and the huge centerpiece.
The lunch was opened with a dance number given by the food and beverage team which was fun to see because they went all out in dancing.
We were warmly welcomed by the hotel's VP for Opearations Mr. Rene Nuñez, after which Executive Chef Arnold Guevarra gave a little talk about the food we were about to partake.
Let's get on with the tasty fare.

Raring to go for a new twist of one delightful dining experience, Midas Café is all set and in great mood on its first-ever food festival – Sabroso! A Festival of Filipino Gastronomical Journey and Expressions. Our award-winning restaurant values and sends high regards to the most celebrated gourmet of the Filipino legacy, from the terrains of once a majestic city to the streams of grand escapes.

In the curtains of the many astonishing Philippine islands, good food is everywhere to be found. And here at Midas, Filipinos highly-flavored likeness for palatable cuisines laid out in a long buffet line, along with the signature favorites of every region render superb and sumptuous indulgence. Midas Café's Executive Chef Arnold Guevarra and his culinary team will make an affair of amazing gastronomy to remember, with the zest of our featured regions in Northern Luzon (Naimas!), Southern Luzon (Masiram!), Visayas (Lami!) and Mindanao (Manamit!). Live through the fare expressions of distinct specialties from the Spanish heritage houses lining through the streets of Vigan to the undisturbed gush of Zambales coast, featuring Pakbet and Bagnet, Bulanglang Bangus, Dinakdakan, Bringhe and Tibok-Tibok in August. Savor the familiar chows of the heart-shaped island province of Marinduque to the spicy towns of Legazpi City with Laing, Tinumok, Sinaing na Tulingan, Shrimp Ukoy and Nilupak at hand in September. Make a fuss of the famed dishes from the island groups of Cebu, Guimaras and Leyte to the tropical paradise of Bohol, bringing to light Sinugbang Manok, Kunsi, Pancit Molo, Lato / Guso and Binignit in October. And relish on the fantastic foodstuff of the lively gateway city of Cagayan de Oro to the center of the surf magnet island of Siargao and endless heaps of Durian from the well-known city of Davao, with the hints of Sinugbang Nukos, Curacha Y Locon, Kinilaw na Bariles, Halang-Halang nga Manok and Marang og Balimbing in November.
So be in no doubt to jump on any excuse to whip up and spoil yourself with an exceptional gastronomical experience. At Midas Café, every guest is in for a fabulous unforgettable feast. – SOURCE
Buffet price:
Daily lunch & dinner P1,842 nett
The Sabroso team prepared plated dishes for us to enjoy. To begin, we were served with chilled salabat. I'm used to the taste of salabat which I make at home to soothe a cough or sore throat but drinking it chilled is a refreshing experience.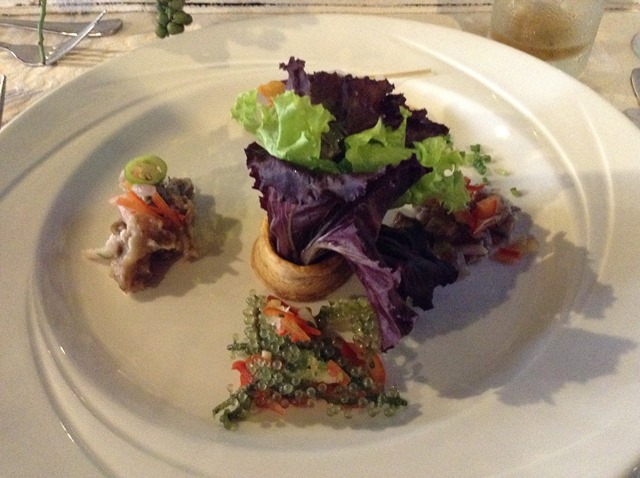 Filipino Gourmet Appetizer – combination of Tuna and Pork Sinugba, Ukoy Dinakdakan, Lato and Guso Salad, Mesclun Greens in Sukang Iloilo vinaigrette.
For some reason, I look forward to appetizers when it is served. The beauty of the plating, the clean taste of fresh salads promises made me look forward to the following courses to be served.  It's a yummy start to this Filipino food spread. I definitely enjoyed this combination of appetizers.
 Law-Uy (Visayan Vegetable Soup)
While we were waiting to be served the rest of the course, they let us partake of their buffet, which, of course, is a much better representation of what Sabroso! is all about. These are the ones I've chosen from the buffet.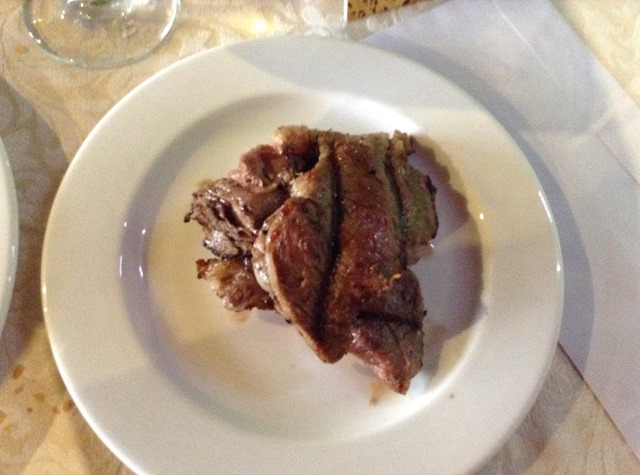 I think I missed being served some of the plated courses whenever I'm up at the buffet. I'm glad I didn't miss the dessert that they served, because I really liked it.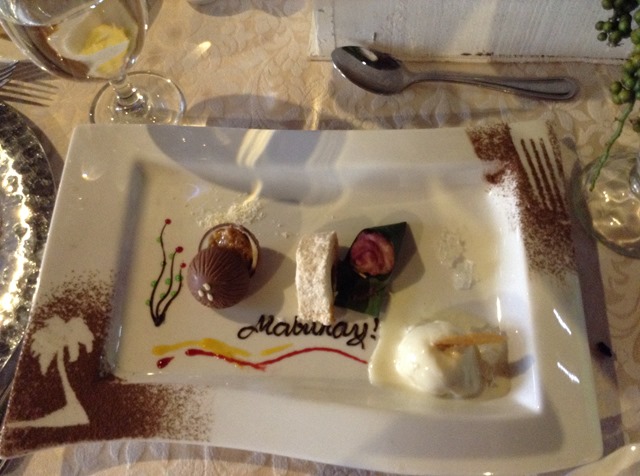 All  in all, it was a very satisfying lunch. There are only two things that I didn't like: the huge centerpiece that took over almost the whole center of the table, and the base plate that made our dinner plates wobble. It disturbed us so much  that we just asked the servers to take away the base plate.
Try Sabroso! for yourserlves! The price is reasonable and you get to 'food travel' all around the Philippines from the comfort of Midas Cafe.
2702 Roxas Boulevard, 1300 Pasay City, Philippines
(02) 902 0100
https://www.facebook.com/MidasHotelAndCasino/