Everyday I work on this blog to make it work better. When I say 'work' I do mean I'm working on learning WordPress better so that I can maximize it to its fullest. So far, I have learned how to install a few widgets and plugins… and that's just about what I've been able to do. I am trying to figure out how to install my Facebook fan page, how to use the sidebar and so many other things that I want to do.
Of course, doing an internet search is easy. When I searched for "How to Install Facebook Fan Box on WordPress", Google returned almost 2 million results. I love to learn new things and I believe there is nothing I don't know about that I can't possibly Google. However, I am already spending more hours learning how to work WordPress than blogging!
Wouldn't it be wiser to just attend a class where all you need to know is laid out for you and taught in layman's terms? Wouldn't it save you more time and energy if you just spend a day learning the technical aspects of WordPress from two women who are known for their technical skills online? Wouldn't it be great to get together with other like-minded individuals and learn something new together?
The Happy WAHM Marge Aberasturi and The Techie Mom Jennyfer Ang Tan presents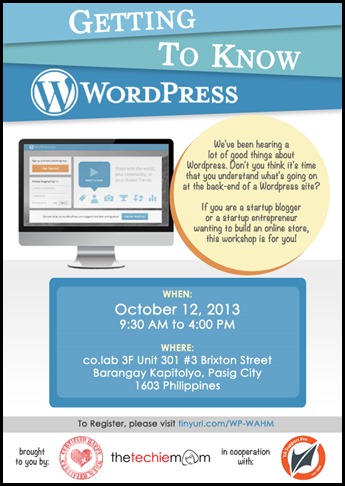 Okay, okay. I know I wrote about this on my last post. But I implore your patience and ask you to read on. The GIVEAWAY is coming!
Marge and Jenn are just so passionate about teaching WordPress to us newbies that they decided to offer this workshop at a very low rate of P1,500. Considering that you'll be learning the technical aspects of WordPress in an airconditioned room with free flowing coffee and a stable wifi connection, this is a reasonable price to pay. Marge and Jenn will be holding our hands (well, figuratively) and taking us through WordPress so that at the end of the day, we are armed with knowledge and skills on how we can make our sites work better. We busy work at home moms and dads need to find ways to work better and faster. Even if that means paying a small price, the returns on our time and efficiency will be infinitely greater. Also, if your homeschooled kids want to blog on WordPress, you can send them over, too. If you want to know more and are ready to register, visit The Happy Wahm's blog for more details.
GIVEAWAY!!!
Beyond The Silver and The Gold, along with Marge and Jennyfer, are offering one blessed reader a free seat to this workshop. Here are the mechanics: