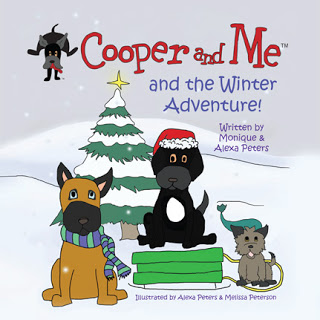 COOPER AND ME AND THE WINTER ADVENTURE BY Monique & Alexa Peters is the story of two dogs – Cooper and Bella. During winter, when they saw the mounds of snow outside their house, both decide to go sledding.
They enjoyed playing in the snow so much they didn't realize that they've gone so far away from their homes. Upon seeing that they were lost, both thought of the best way to find their way home. First they waited, maybe for someone to come by, until it was about to get dark. Bella knew they had to get home before dark, so they decide to let out loud and long howls.
After some time of straining to hear, they hear the sound of a dog barking loudly. They followed the barks until they found their way into their neighborhood. As it turns out, it was another friend dog, Trooper, who decides to help them find their way by barking continuously. They are happy to find their way home.


MY REVIEW:
My children and I definitely enjoyed reading this book. Especially because it is written in rhyme and can be read in a sing-song manner. The book  is about getting lost and how to find your way home. Though it is not explicitly said, the book shows what to do when children get lost.
First, they must not panic. They should learn to wait awhile for an adult to possibly come back for them. If no adult shows up, they can then try to find their way by asking for help.
As with the first Cooper and Me book that I reviewed before, the back of the book presents lessons to teach children further about the subject. There is the 'Information About Me!' page where a child can write down her complete information, such as her complete name, her parents' or guardian's names, their address and phone numbers.
Then there is the 'Life Lesson' section that further talks about how a child can possibly get lost while playing with friends. The 'Connections' asks a few questions of the child to allow the child to think through the story and lesson and make decisions when she is lost.
There are two pages of 'Learning Together'. This section talks about the story with questions that the parent can ask the child.  COOPER AND ME AND THE WINTER ADVENTURE is definitely a must-read for parents who want to teach their children about personal safety and what to do when they get lost.
This book is available for sale at the Cooper and Me website for only $12.99.
This time I am going to make this very, very simple because I don't have much access to the internet. All you have to do if you want to win is to POST A COMMENT. Leave us a tip on what you teach your child/ren do when they get lost. That's it!
This GIVEAWAY  begins today and will run till January 27, 2012.
Disclosure of Material Connection: I received one or more of the products or
services mentioned above for free in the hope that I would mention it 
on my blog. Regardless, I only recommend products or services I use personally 
and

 believe will be good for my readers. I am disclosing this in accordance 
with the Federal Trade Commission's 16 CFR, Part 255: "Guides Concerning the 
Use of Endorsements 

and

 Testimonials in Advertising."