Steps Project: Stepping your way to an active lifestyle
An active lifestyle fair where you just gotta keep movin'!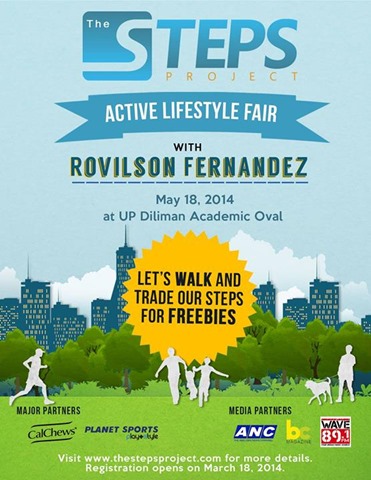 Join the Steps Project here.
UP Diliman Oval Track, May 18, 2014 – The STEPS PROJECT, an advocacy for better health, will be launched headed by its ambassador, Rovilson Fernandez, a fitness advocate and celebrity. This movement aims to promote awareness of achieving and maintaining an active lifestyle by moving. The movement is all about educating individuals that you can achieve better health just by making decisions that allow you to move your feet one STEP at a time. You don't have to 'intentionally exercise' to achieve better health, but you need to 'intentionally move'. Come and join the stepping community! Online casino Ireland. ###
All throughout March and April, activities will be prepared for those who want to join the movement. We have dog walks, Filipino games for kids, belly dancing, dancing and other fun activities that you can do with other members.
Also, to further promote the Steps Project, we will be having a giveaway on March. We will be raffling off an IPAD mini to one lucky advocate. All you have to do to earn raffle entries is to promote the Steps Project by following our simple mechanics.
We are also organizing a huge launch event which is called the active lifestyle fair, which is the first of its kind. This will be on May 18, 2014 at the UP Oval. For every round a participant makes (by walking, running or jogging), he/she receives a colored band (which represents 2000 steps). A participant can accumulate up to 5 bands equivalent to 10,000 steps. These bands can then be exchanged for exciting treats and prizes in the fair's activity area. The more colored bands collected the more freebies and surprises a "Stepper" can claim.
The event is also the launch of our charity movement: the 10,000 slippers. Everyone is invited to help us by donating brand new slippers. We are targeting to fill our duffel bags with slippers to be turned over to UP Tacloban.
Online registration for the active lifestyle fair opens on March 7, 2014. Go to www.thestepsproject.com for full registration details.
(NOTE: Join us as we launch the STEPS PROJECT on May 18 and meet our surprise guests and participants, claim treats and enjoy your way the beginning of your active lifestyle. Photo opportunities will be available.)
Facebook Page: https://www.facebook.com/thestepsproject
Twitter: https://twitter.com/stepsproject
Instagram: http://instagram.com/stepsproject
You can register for The Steps Project on May 18 using this form. Please place "BEYONDSILVER" on the "Referred by" space to get a discount of P50.00 from the registration fee of P350.00.