The Steps Project with Chief Ambassador Rovilson Fernandez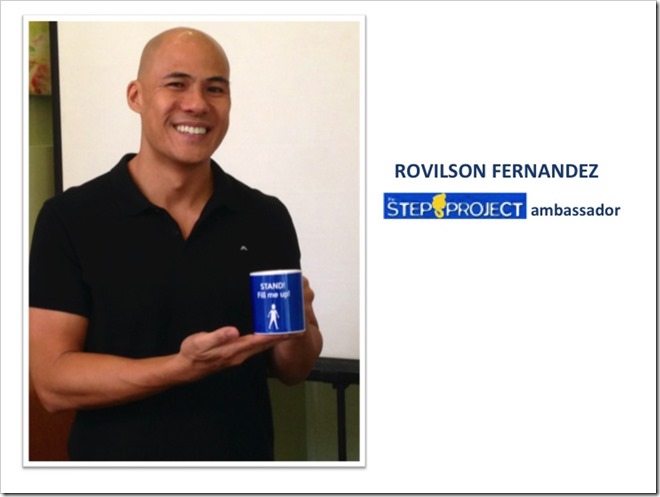 Last Feb. 25, 2014 I was privileged to be invited to the bloggers' launch of The Steps Project. I was excited to go to this launch at the prospect of meeting Rovilson Fernandez, who I watched as he and Marc Nelson raced toward their victory in Amazing Race Asia. Even if they were not the winners, they were still winners in the eyes of many because they played smart and fair all throughout the race. Online casino Ireland. ###
Rovilson did not disappoint as their ambassador. He was welcoming, warm and very contagious with his passion to promote an active lifestyle to every Filipino. Along with his partners, they talked to us about the Steps Project and its Mission:
The Steps Project is a movement that promotes an active lifestyle through continuously moving, making as many steps as possible.

The Steps Project is building a community of steppers who will live and advocate for the mission of the Steps Project.
Mission of The STEPS PROJECT:

• To educate people that 10,000 steps a day is considered an active lifestyle

• To making each "step" as fun as possible.

• To build communities of steppers who will advocate for the Steps Project.

• To educate people that you will be Rewarded for every step
In advocating for a fitter and healthier Philippines, the Steps Project aims to make it fun and rewarding as we step toward a healthier lifestyle. Walking, which is something that most of us do automatically everyday, has several health benefits:
• Gives you more energy
• Makes you feel good
• Helps you to relax
• Reduces stress
• Helps you sleep better
• Tones your muscles
• Helps control your appetite
• Increases the number of calories your body uses
Here are some interesting Steps Trivia:
• On average, every minute of walking can extend your life by 1.5 to 2 minutes.
• Walking an extra 20 minutes each day will burn off 7 pounds of body fat per year.
• To burn off 1 plain M&M candy, you need to walk the full length of a football field. Think about that next time you dip your hand into a candy bowl at someone's office!
• Studies found that a brisk 30-minute walk or around a track three times a week was just as effective as antidepressant medication in relieving the symptoms of major depression in middle-aged and elderly people.
• Walking increases the blood flow to the brain. A study of people over 60 found that walking 45 minutes a day at a 16-minute mile pace increased their thinking skills.
• Avoiding just 16 kilometres of driving every week would eliminate 500 pounds of carbon dioxide emissions a year.
Did you notice that 3rd bullet about eating just 1 M&M's, oooh, that hurts. I will think more than twice next time I have it in front of me.
It was an afternoon that didn't go to waste. I met new blogger friends and the whole Steps Project group. They are all so encouraging about leading a fit and healthy lifestyle. As you know, our family has also been making more changes towards that end. It's good to be in the company of people with the same goals. The Steps Project team has taken it further by providing fun ways to start the Filipino family towards achieving an active lifestyle.
The best thing about joining The Steps Project is:
Simple – no instructors or membership needed.

Achievable – can be done nearly anywhere, anytime.

Inexpensive – no special equipment involved.
The Steps Project can be found through:
Website: http://thestepsproject.com/
Facebook page: https://www.facebook.com/thestepsproject
Twitter: https://twitter.com/stepsproject
Instagram: http://instagram.com/stepsproject
Stay tuned for more updates about The Steps Project launch on May!