We've received questions on Facebook and emails inquiring about activities for kids at the Philippine Homeschool Conference 2015 Ready For The World! We couldn't immediately reply because we were still in the process of working it out. Finally, we are happy to present several arts and crafts workshops for your children to choose from.
Of course, we understand that we love to bring our kids with us almost everywhere we go. Attending a homeschool conference is definitely not an exception. At the same time, we encourage parents to make the most of their day at the conference. So while you're absorbing new information and basking in inspiration from our group of speakers, let your kids learn something new and meet new friends at the same time in our Arts and Crafts Workshops.
Each workshop is P500.00 with materials included. We're only taking in 25 students per workshop so register as soon as you can.
Parents take note that the workshops will be held at the Homeschool Expo at SMX Convention Center at the 3rd floor of SM Aura while the Plenary and breakout sessions will be at Samsung Hall at the 6th floor. Plan to have your children watched by a responsible adult. Entrance to the expo is P50.00 only. However, if you purchase the regular ticket and workshop tickets, entrance to the expo is already included.

9:00 – 11:00 String Art Mandala

10:00 – 12:00 Basic Calligraphy

12:30 – 2:30 Cross Stitch Dream Catcher

2:45 – 4:45 Basic Calligraphy Online casino Ireland. ###
Check the schedule carefully because we have two or three workshops going on simultaneously.

Arts and Crafts by DMC
Basic Calligraphy Workshop by Little Ms Printer Marj Liwag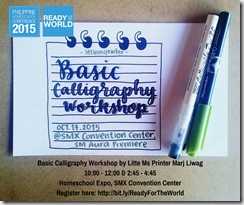 Remember, we're only taking in 25 students per workshop, so register now. Go here to register.